MAXIMUM EFFICIENCY POWERFUL PERFORMANCE
We engineered the new Ruud® Ultra™ Super High Efficiency Gas Water Heater to give you the best of everything. Not only is it more efficient than a standard gas water heater, but it's the highest-efficiency water heater in its class. And because it's so powerful, it gives you all the hot water you want.

This product meets a stringent set of our company's internally defined sustainability standards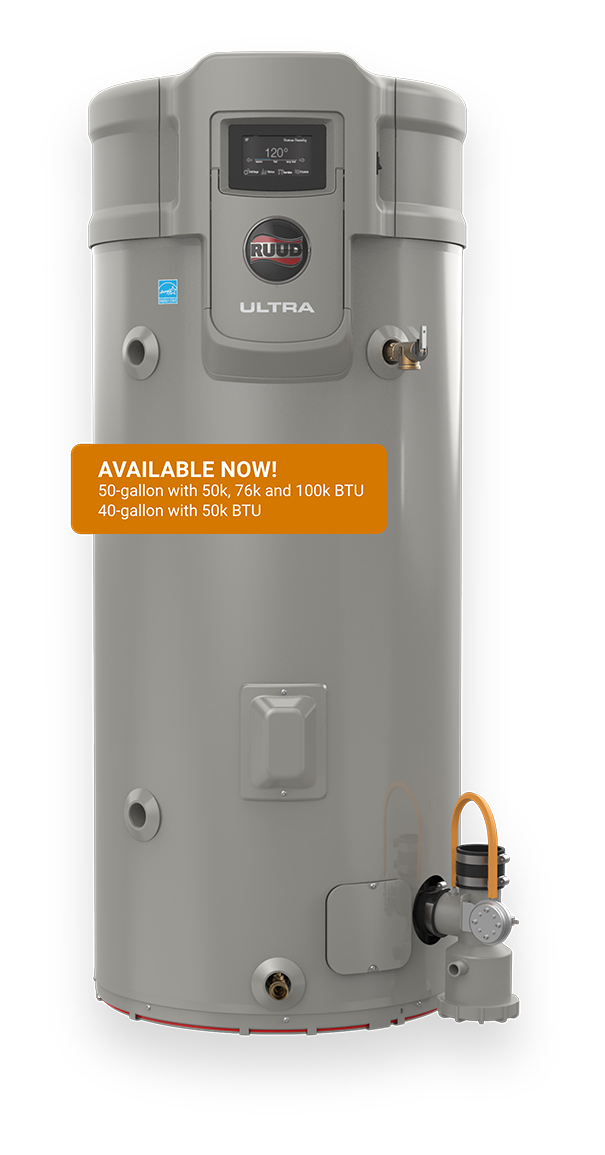 EARTH-FRIENDLY EFFICIENCY
Super-high efficiency operation delivers energy and energy cost savings and a reduced carbon footprint1

RELIABLE HOT WATER
Heats water up to 2X faster,2 so you'll have plenty of water to do the dishes, wash the laundry or even run continuous3 back-to-back showers

ECONET® SMART MONITORING
Exclusive technology provides control and alerts via both mobile device4 and full-color LCD display

EASY INSTALLATION
Plumber-friendly design makes installation faster and more affordable with versatile and built-in features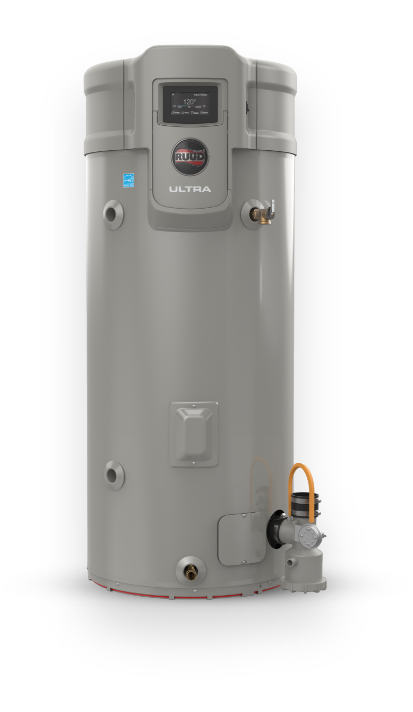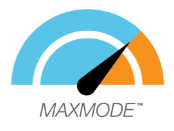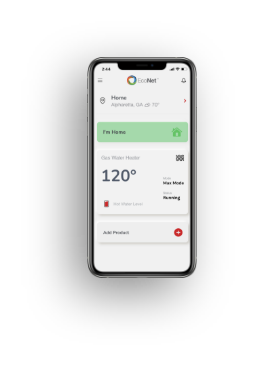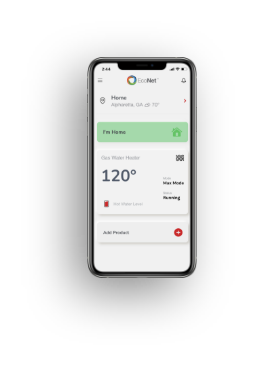 Unmatched Savings & So Much More
Save upfront and continue saving for years to come with the Ruud® Ultra™ Super High Efficiency Gas Water Heater. From big energy cost savings to install savings and tax credits, everything about the Super High Efficiency Gas Water Heater is a win-win.
Maximum Efficiency
Super High Efficiency – High efficiency water heating with up to 0.90 UEF for carbon footprint and energy use reduction of up to 36%1
Cost-Friendly Upgrade – Take advantage of available rebates and enjoy energy cost savings
Continuous Hot Water
Delivers Continuous Hot Water – Heats water up to 2X as fast as a standard gas tank2 so you'll have plenty water to do the dishes, wash the laundry or even run continuous3 back-to-back showers
MaxMode™ – Gives the water heater the boost it needs to produce up to 15% more hot water and keep up, even if demand gets high—perfect for those weekends with house guests
Smart Controls
Integrated Wi-Fi – Real-time service alerts and control from anywhere with the EcoNet App4
Added Protection – Built-in 360° LeakSense™ water leak detection system detects any leak, large or small, internal or external6; plus the Ruud Super High Efficiency Gas Water Heater is FVIR compliant
Hot Water Availability Indicator – Shower with confidence knowing there is enough hot water available
Leak Prevention – Available LeakGuard™ accessory stops water leaks before they become a problem, limiting leaks to 20 oz. or less7
Pain-free for Plumbers
0″ Clearance on Sides – Fits in a closet
Venting Versatility – Installs as Power Vent or Power Direct Vent, so you only have to carry one product on your truck
Startup Verification – Be sure your customer is up and running before you leave the home
Easy Diagnostics – View advanced diagnostic information8 and detect outgoing water temperature
Fast and Easy Service – Fully serviceable from the front
Upgrading is simple. All Ruud Ultra Super High Efficiency Gas Water Heaters have zero side clearance requirement—making them easy to install even where space is a concern, like in a closet.

Knowledge is Power
With integrated Wi-Fi, homeowners can avoid cold showers, detect leaks and more. It's all possible with Ruud Ultra Super High Efficiency Gas Water Heater and the EcoNet® App.4
EcoNet Home Screen
Check and adjust temperature, set home or away, view any alerts, change operating mode and view available hot water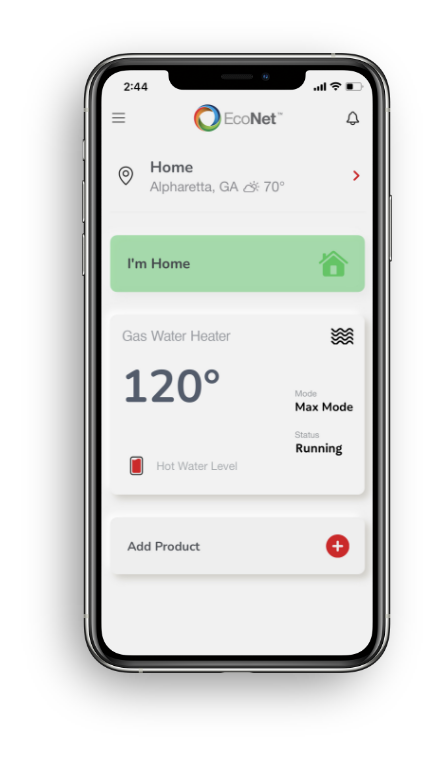 Product Health Indicator
Easily check if the unit is operating normally and when it's time to call for service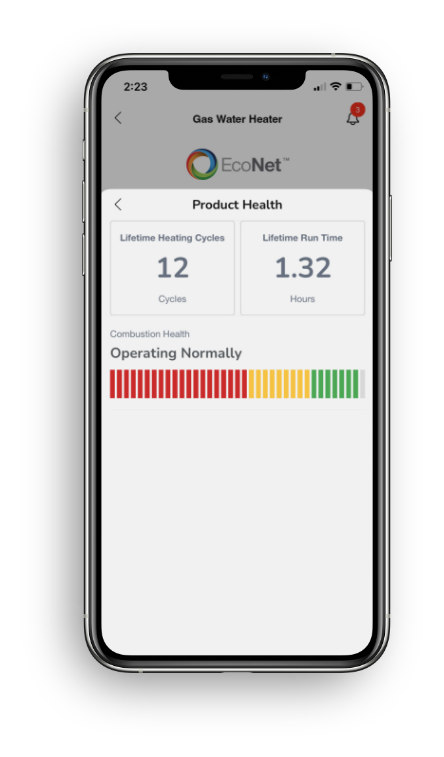 Energy Use Tracking
View weekly, monthly and yearly energy usage reports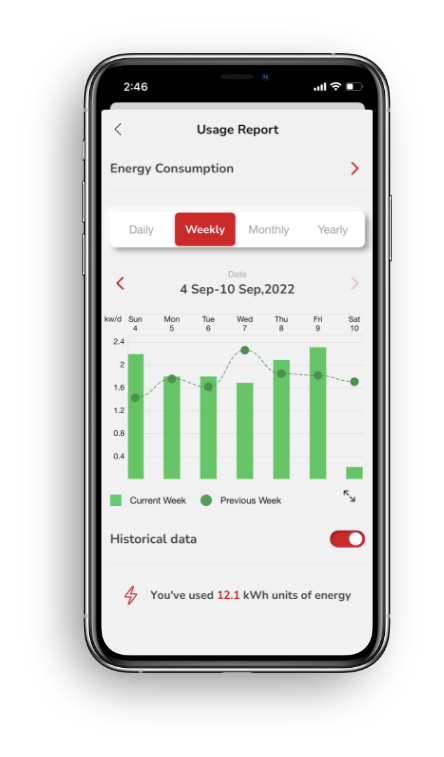 Advanced Diagnostics
Allows plumbers to view detailed alerts and alarm codes while at the water heater to expedite service8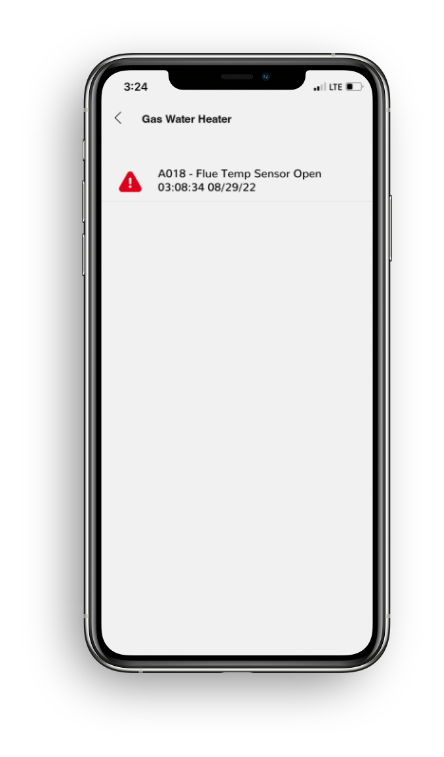 Water Temperature Control
Easily check and adjust water temperature and activate MaxMode™ as needed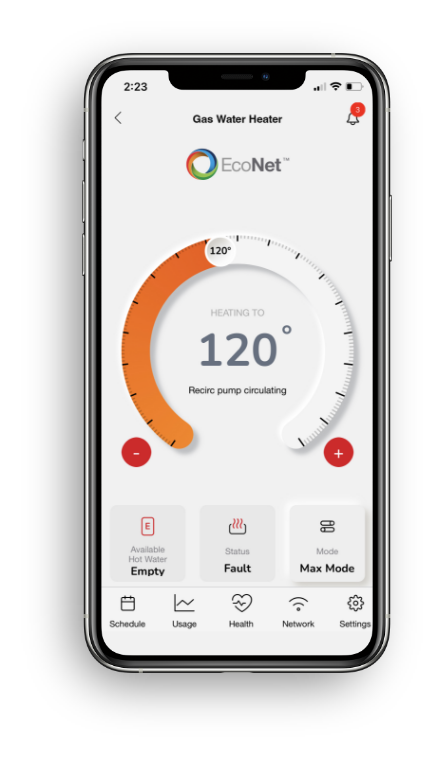 Setting Away and Home
Save energy on water heating costs while away and return home to a tank full of perfectly hot water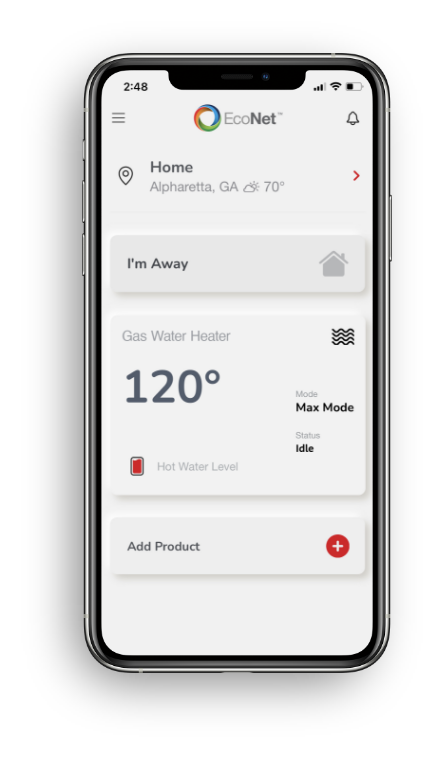 Contractor Information
Helps you connect with customers by giving them an easy way to reach and share codes with you for repeat business and quicker service calls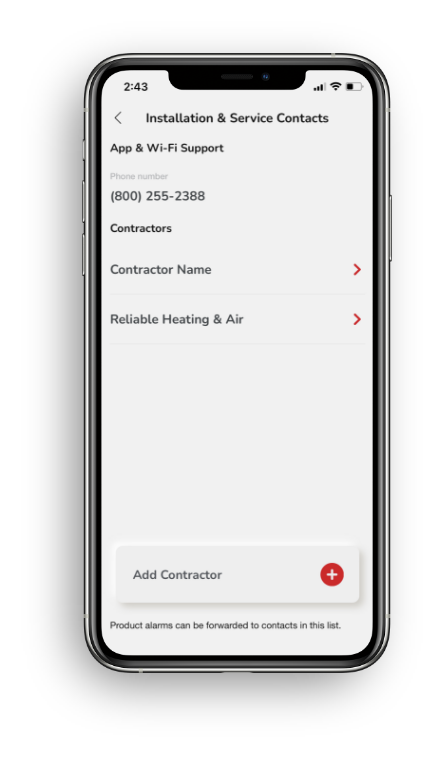 ENJOY CONTINUOUS HOT WATER IN YOUR HOME
Get a Ruud Ultra Super High Efficiency Gas Water Heater.