Ruud Heating, Cooling & Water Heating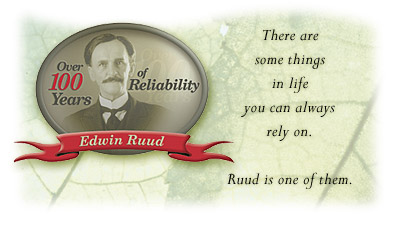 More than 100 years ago, Edwin Ruud, a Norwegian mechanical engineer, came to America and developed the first successful automatic water heater. That early success marked the beginning of a tradition of innovation and value that led to the introduction of RUUD heating and air conditioning equipment in the 1950s. Since then, the RUUD has grown into one of North America's largest manufacturers of quality heating, cooling and water heating products for residential and light commercial use. Today, RUUD operates manufacturing facilities employing highly trained workers and state-of-the-art equipment. Over the years, the product lines have expanded, changed, and improved significantly as new design techniques and better manufacturing technologies have become available. What remains unchanged throughout our history, however, is our commitment to producing the most reliable, long-lasting, efficient equipment you can buy.
Edwin Ruud: Inventor of the first automatic gas water heater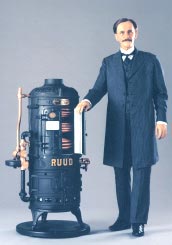 It's a time beyond recollection for most of us now. But before Edwin Ruud, hot running water on demand was a luxury unknown to even the most affluent Americans. While working in Pittsburgh in the 1880s for industrialist George Westinghouse, young Ruud built the first automatic, storage tank-type gas water heater. The unit went into production around 1889 and patents followed soon afterward. Ruud eventually bought the rights to his invention and in 1897 organized his own company to make water heaters. Other breakthroughs, large and small, followed over the years, as Ruud became a leading pioneer in water heating products for the home as well as for commercial and industrial applications. By the time Ruud departed the scene, his breakthrough innovation had changed the daily hygienic habits of every living American.
Well-Known for Quality
Ruud is an industry leader for total heating, cooling and water heating solutions.  In fact, Ruud is one of the few brands with product offerings covering residential and commercial heating, cooling, conventional storage-style water heaters, tankless water heaters, solar water heating systems, replacement parts and accessories for all categories – making us a one-stop solutions provider. All Ruud heating, cooling and water heater heating products meet and exceed rigorous industry standards for quality and reliability. From raw material delivery to finished product assembly, each phase in the manufacturing process is effectively overseen to ensure the highest quality in water heater manufacturing. Ruud products are frequently tested and certified by various government and third-party testing labs to ensure quality standards.
Quality Policy
It is our policy to promote a culture of continual improvement that is committed to exceeding customer expectations and requirements, by providing products and services of excellent quality.
Wide Range of Heating, Cooling & Water Heating Solutions
Today's economy isn't about product lines; it's about product solutions.  It isn't about the number of models or the capacity, but how you can use these various products to meet the equally various demands of each application.
Residential, commercial, institutional, industrial and manufactured housing
New construction, major renovation, simple repair and replacement
Domestic hot water and commercial hot water applications
Domestic heating & cooling and commercial heating & cooling applications
Whatever your interests or needs; whatever your heating, cooling or water heating application, Ruud has a reliable, cost-effective solution to meet it.  Ruud is your one-stop source for all your heating, cooling and water heating needs.
Ruud Products are Readily Available
Ruud heating, cooling and water heating accessories and replacement parts are strategically stocked across the USA, Canada and Mexico for fast delivery anywhere in North America.  Our export and international distributors reach other countries around the world.
World-Class Customer Support
Customer support is priority one at Ruud.  We are dedicated to providing timely and accurate support for your peace of mind. Consumers rely on our support for warranty details and basic product information.  Plumbers and Contractors rely on us for technical assistance and application support.