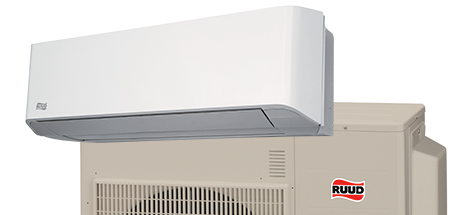 HOW TO CHOOSE MINI SPLIT

?
Mini Splits are ductless heating and air conditioning systems that eliminate the need for a basement or attic-located evaporator unit and duct work. With thin copper tubing, these units pump refrigerant directly to discreet wall mounted units inside. Even more remarkable, these same units work in reverse in winter, absorbing heat from the outside air and moving it indoors to heat your home.
The result? Efficient cooling and heating for year-round, whole-house comfort in any climate.
Ruud® Mini-Split Heat Pump Systems offer a convenient alternative for heating and cooling areas of the home where traditional duct systems may not be an option.
No need for ducting with the Mini-Splits! They set up quickly, install easily and won't take up wall, closet or attic space. This compact system is perfect for attics, home additions, basements or crawlspaces.
Partnered with a Ruud HVAC system, our high- efficiency ductless systems help homeowners:
Keep more spaces comfortable
Keep energy consumption low
Save big on utility costs
Single Room solutions include one indoor & one outdoor unit
Extensive lineup from 9,000 to 36,000 BTH/h
Various custom solution combinations – 13 different system options
Energy efficient single zone systems
SEER ratings as high as 33.0
HSPF up to 14.2
8 Energy Star qualified systems
Inverter Technology included on all systems
Quiet operation
Indoor units as low as 21 dB
Outdoor units as low as 47 dB