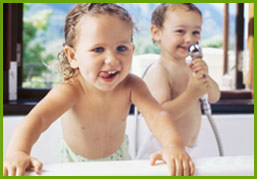 With today's rising energy costs and environmental awareness in mind, Ruud has met and exceeded the expectations of home and business owners for new water heating solutions. Welcome to Ruud tankless water heaters.
Ruud tankless water heaters combine new technology and functionality in an innovative way to heat water. The result – you now have a greater choice of award-winning Ruud products designed to give you comfort. Our tankless water heaters are designed to enhance your lifestyle, utilize advanced technology for energy efficiency, and supply a continuous flow of low cost hot water whenever and wherever you need it.
Since our tankless products only use energy to heat water as it is needed, no energy is wasted while there is no demand for hot water. In addition, our tankless products put you in complete control over your water temperature with a precise digital controller. A touch of your fingertip can adjust the maximum water temperature up or down to the perfect comfort level that's just right for you. Moms love this feature because it prevents water from getting too hot for their children. These features plus many more add up to pleasant lifestyle and considerable savings on your energy bill.
Features & Benefits
Continuous hot water on demand – Tankless water heaters provide a steady flow of hot water whenever and wherever you need it.
Compact, space saving design – Our indoor and outdoor tankless water heaters are just over 2 feet tall, weigh 55 pounds or less, and attach to an interior or exterior wall.
Energy Efficient – Ruud tankless gas water heaters are very energy efficient. To calculate your estimated energy, please visit our tankless energy savings calculator page.
Indoor and outdoor models available – with a variety of propane (LP) and natural gas models for added choice and convenience.
Environmentally-friendly – Our tankless products meet low NOx emissions standards (SCAQMD rule 1146) because of their advanced operational design and high efficiency.
High altitude efficiency – Ruud offers unique technologies for efficient tankless water heater operation up to and above 9,000 feet.
Digital display – All Ruud tankless models have a digital display that show temperature setting and maintenance codes.
Remote controls – all tankless models include a digital remote control (model UMC-117) with a maximum temperature setting of 140 degrees F. All remote controls require 18 AWG, 2 conductor thermostat wire that is sold separately in a variety of lengths.
Additional remote controls – Additional waterproof remote controls (USC1-117 and USC2-117) are available for all tankless models. These additional remote controls add convenience to a whole home tankless system by enabling the user to change the output temperature of their water heater from multiple locations.
Worry-free operation – Our award-winning tankless designs feature exclusive safety features including: – built-in self-diagnostic program – advanced sensors that prevent overheating – automatic shut-off system in the event of an error.
Self-diagnostic program – Our tankless water use smart technology. The built-in self-diagnostic program displays maintenance codes when necessary. In the event an error is detected in the tankless unit, an error code will be displayed on the digital controller for quick reference and troubleshooting.
Large hot water volumes Ruud tankless water heaters can be combined in several combinations to accommodate any hot water need. All models are manifold capable (up to 20 units) with a modular controller. With Ruud's new EZ-Link technology, 2 units may be combined using a single EZ-Link communication cable.
Built-in electric blower and 120V power cord – Inclusive on all indoor models
Stainless steel venting – All indoor models require manufacturer approved stainless steel venting for safe, efficient operation and extended life. Standard water heater vent material is inadequate for safety reasons.
GAMA certified energy factors – Ruud offers the most energy efficient and worry-free product choices available in the tankless water heating industry today certified by GAMA, an independent testing agency for government standards and certifications.
Patented Overheat Film Wrap – Patented safety feature that helps to predict the life expectancy of the tankless water heater's heat exchanger. This device consist of a film wrap and carbon trace that runs through it. The OFW completely surrounds the tankless water heater's heat exchanger and will automatically shut the unit down if the heat exchanger were ever to overheat.
Please note – Proper gas pressure must be ensured to supply any tankless gas water heater – up to 141,000 BTU for RTG53 series and up to 199,900 BTU for all other Ruud models. (Please consult your gas supplier)